About the AEB
The Association of European Businesses represents and promotes the interests of European companies conducting business in and with the Russian Federation.
The AEB carries out activities to improve the Russian business and trade environment and to promote economic integration and partnership between the Russian Federation and the European Union.
News
On October 30th, 2014 Boris Titov, Presidential Commissioner for Entrepreneurs' Rights Protection met AEB member - companies. During the event he told about achievements and prospects of the Commissioner last two years. The event was chaired by Frank Schauff, AEB CEO, and Stuart Lawson, AEB Finance and Investments Committee Chairman / Executive Director, EY.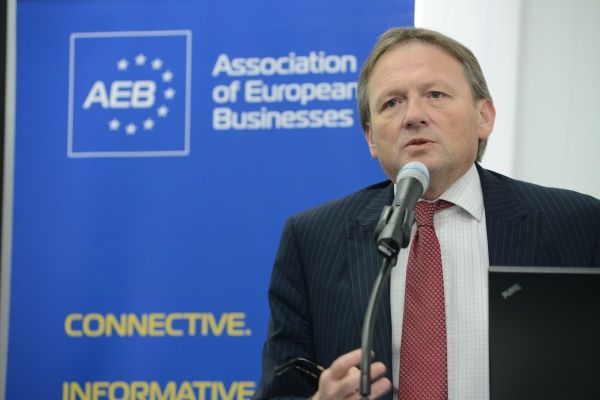 On October 28th, 2014, the AEB Machine Building & Engineering Committee held its open event «Engineering in Industrial Sector as a Key Factor of Development». 

The Round Table was devoted to one of the burning issues for many industrial companies working on the Russian market — engineering in industrial sector. The following issues were raised and discussed: Russian system of technological forecasting; how to deal with Russian scientific institutes in order to utilize their capacities for business needs; which could be in Russia the role of foreign business interested in developing the industrial engineering («soviet» and «business focused» approaches); efficient project and construction management of industrial plant; possibilities of R&D organization in SEZ («Alabuga»). 




The meeting was co-chaired by Michael Akim, AEB Board member, Vice-President, ABB, and Ilya Oshkin, Deputy Chairman of the AEB Machine Building & Engineering Committee, Business Development Director, Dow Corning.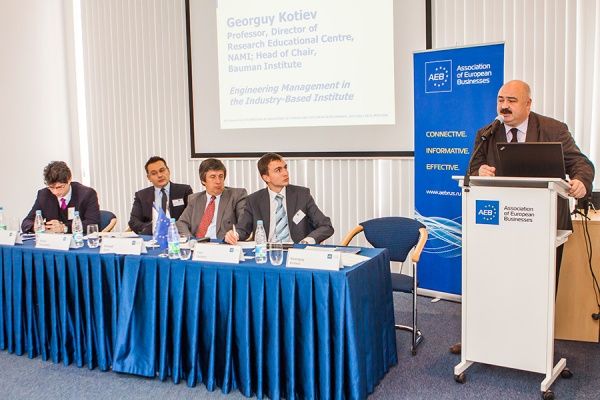 On 24 October 2014, the AEB Home Appliances Manufacturers Committee and EuropeAid Project 132827 — "Approximation of EU and RF technical regulation and standardization systems" held an open event "Approximation of Customs Union and European Union legislation in the field of energy efficiency labeling". The event was devoted to the questions related to the regulation of energy efficiency labeling in the Customs Union and in the European Union. During the event, the AEB members and guests received the latest update on the status of development of the draft CU Technical Regulation and the European Union legislation regarding energy efficiency labeling from representatives of the Eurasian Economic Commission and EU and Russian experts. The presentations were followed by lively discussion and Q&A session.
L-R: Victor Timko, Head of Research, Russian Research Institute for Certification (VNIIS); Alexey Soldatov, AEB Home Appliances Manufacturers Committee; Han Zuyderwijk, Team leader, EU project "Approximation of EU and RF Technical Regulation and Standardisation Systems"; Natalia Savelyeva, Adviser of the methodology of technical regulation, Department of technical regulation and accreditation of the Eurasian Economic Commission.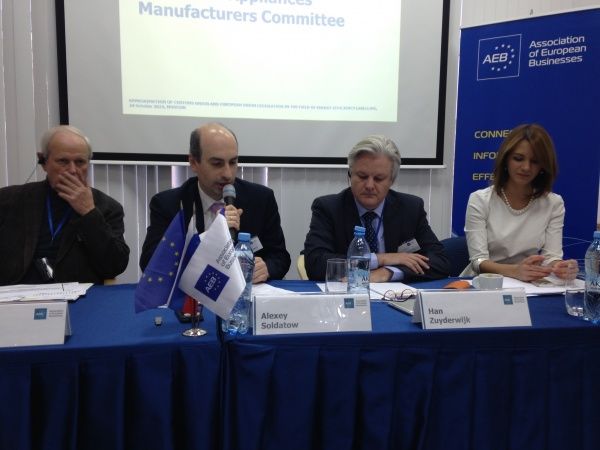 News archive
Events
Upcoming events
Past events